BIG THANK YOU!
---
A wonderful thank you to those who came out to dance in celebration of Lake Shore Dance Academy's Grand Opening Gala. The evening was full of amazing performances, great dancing, and lasting memories.
The evening started off with the attendance of 70+ guests dressed to perfection in formal attire. Our hosts, Ania donned a stunning dark velvet turquoise dress whereas Alex looked handsome in his two toned navy tuxedo.
Festivities soon after began with a ribbon cutting ceremony to celebrate the milestone followed by a dance family photo. An amazing cake came out to complement the moment displaying the Studio's emblem, colors, and details down to the note.
Refreshments were served and the hors d'oeuvres tasted as good as they looked! Deviled Stuffed eggs with Caviar, cucumber cups with cream and smoked salmon were some of the appetizers that delighted the senses.
DANCE PERFORMACES
---
Everyone was invited onto the dance floor to warm up to some soft beats as preparations were being made for the Grand Opening performances. Things were going to start things off with a bang. Ania, Alex, and Tom came out in decorative pirate costumes to perform a paso doble/tango piece to the theme of the Pirates of the Caribbean. The choreography was three minutes of swashbuckling fun, not limiting to energetic spins, lifts, and cinematic delight; too bad only one pirate was left standing…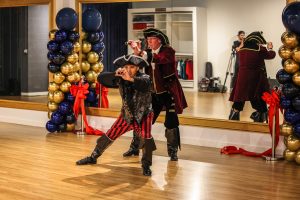 Soon after students, and alike, showcased everything that they've learned through the hours of practicing their craft. Ximena and Ignacio came out with their edgy rumba and merengue getting the crowd riled up and clapping for more. It was a great rehearsal to their upcoming wedding performance. Violetta busted out with a classic waltz which displayed successive natural spin turns and ever so softly glided across the dance floor with a capable partner in her teacher Alex. Rafal caught the attention of many eyes with his foxtrot and a loud applause as he lifted Ania while effortlessly pivoting to a beautiful finish. This was a wonderful homage to a Frank Sinatra staple, "Ain't that A Kick In The Head". Sue took us back to the roaring 20's with a powerful quickstep with all the while demonstrating a lightness that anyone could appreciate. Julian performed a very sultry tango and bachata with Ania. Nothing like added spice to the evening. Laura kept the energy flowing with her twist medley. Quick feet, dips and lots of twisting, we were ready for more. Ken performed an effortless rumba while effectively using the floor space and musical rhythms of "The Way" by FastBall. Joan dazzled like her emeralds, while Alex was unable to tame the bull within her given her sweeping attacks in the paso doble.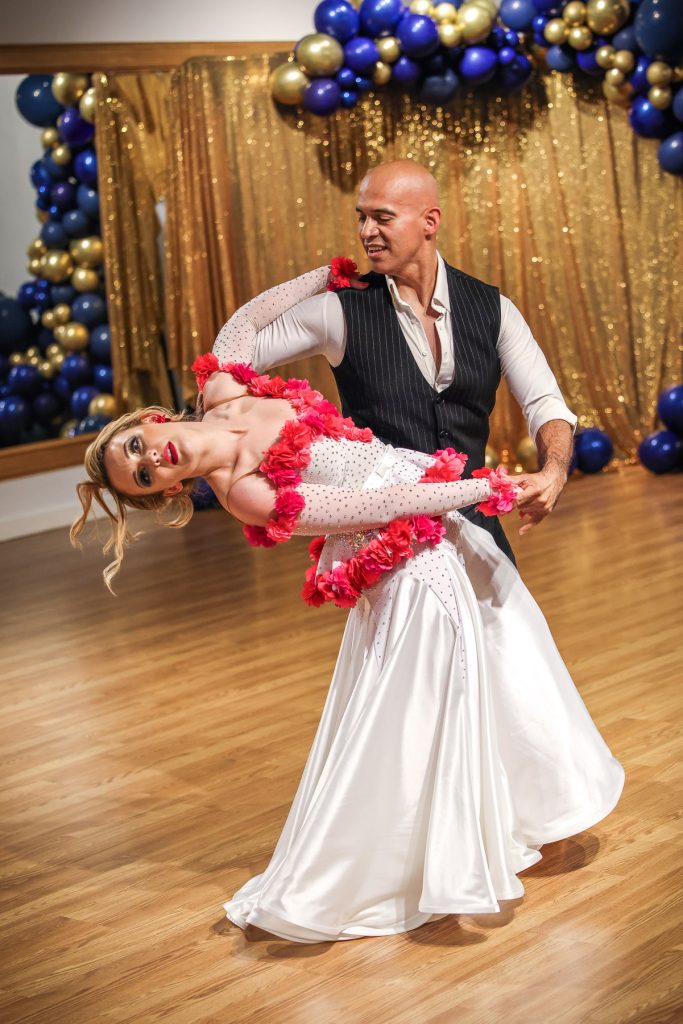 The climax of the evening during Grand Opening Gala was the grand finale performance. Alex and Ania showcased a power ballad piece that would have even made Tchaikovsky blush. It was an expressive performance with a story in itself, emotions relaxed and tense filled with beautiful fluidity and elongated by sharp pulses. They swept across the entire dance floor which captivating the entire audience. You just had to be there to enjoy this special confection of a dance.
SOCIAL DANCING
---
The finish to the evening came as the floor then opened up to everyone with fun and electric social dancing. Guests continued to mingle, eat, drink, and dance night away celebrating Lake Shore Dance Academy's Gand Opening Gala. Scrolling through the photos you can see for yourself how much of a great time everyone had, all the while creating lasting memories. If you didn't make it this year, make sure to polish and lace up your dancing shoes, and come on out and celebrate upcoming parties with us through out the year!