You have found a beautiful venue, discovered your breathtaking wedding ensemble, booked the ideal catering service, and perhaps you have even written your vows.  With many things checked off your wedding to-do list, there is just one more thing to add: preparing for your first dance!   Currently, you might be asking yourself many questions:  What should a first dance look like?  How should we begin our first dance?  How long do these dances last?  How do I choose the perfect song? Do I need to change my outfit for the dance?  When should the first dance happen?  Before you overwhelm yourself even further, consider the answers to these questions to help you take the first steps toward creating your first dance.
What should a first dance look like?
Today's first dances easily range from swaying back and forth, lively rumbas, and even energetic swing performances.  While you may have experienced a myriad of couples' first dances in your lifetime, it is important to have realistic expectations for you first dance as a couple.  So if you find yourself weeks away from your big day and you are looking for specific moves to include your first dance, please do not set your heart on featuring Dirty Dancing's legendary lift move in your dancing debut.  Rather, focus on practicing and improving the steps, twirls, and dips in you learn for your routine at the Lake Shore Dance Academy.
Another important characteristic of a first dance is how the couple appears as they move: natural and smooth.  Such an appearance is the result of hours of practice and hard work.  When dedication and commitment are the foundation of a couple's first dance, it adds to the magic of your wedding day and, without a doubt, impress your guests!
How should we begin our first dance? 
Couples have a considerable degree of flexibility when deciding how they wish to start their dance.  The music can begin as soon as the couple steps onto the dance floor or when they are in the middle of the floor, or anywhere in between.  The newlyweds can also begin by holding hands, walking side by side, or by being on the opposite ends of the dance floor.  There are endless possibilities!
How long do first dances last?
Although you could easily spends hours watching spectacularly choreographed first dances online, it is important to be sensitive to your guests' attention spans.   We recommend that your first dance is no longer than 2.5 minutes.
How do I choose the perfect first song?
First think about the genre of music both you and your fiancé enjoy.  Then consider whether you can dance to this song in front of an audience.   Next, read over the lyrics.  Do these words reflect your relationship?  It is important to select a song that accurately and artfully captures your personality as a couple.  By choosing a meaningful song, it can help you feel more at ease and make your night special!
Do I need to change my (perfect) outfit for the dance?
Can you walk, sit, and move around in your dress?  These are important things to check because you want to be comfortable and able to move freely during your first dance.  The more you are able to move, the less you will have to worry about potential tears.  Another important thing to consider is the train's length because if it is too long then your fiancé could step on it.  If you feel that your dress is not the ideal gown to dance the night away then you may want to change into a different outfit. It is common for today's brides to have another dress for the reception, which are usually looser fitting and lack a train.
As for the groom, we suggest that they take off the suit coat for the dance to allow for a greater range of motion and helps decrease the chances of any clothing mishaps.  They will also appreciate simply taking off this extra layer!
Comfortable shoes are also a must!  So if your perfect shoes have a 5 inch heel, then make sure you have a second pair of shoes that are comfortable and you can dance in. Perhaps a beautiful pair of ballroom bridal shoes? Ask your dance instructor for more details and recommendations.
Professional tip:  If you already have your wedding shoe(s), bring them along to your next scheduled lesson so that your dance instructor can give you feedback and you get an idea if your shoes are appropriate.
When should the first dance happen?
The first dance most often happens after dinner.  DJs help initiate when the first dance occurs and they will announce you to your guests.  You may want to work with your wedding planner/day-of coordinator and DJ to solidify the logistics.
Still curious?  Here are some more commonly asked questions and considerations about the first dance.
How should our dance end?
With the help of Lake Shore Dance Academy, the ending of your first dance will wow your guests even more!  Whether it be a simple romantic dip, a spectacular spin, or an energetic grand finale.   Our collaborative instructors are excited to help you incorporate that special touch at your finale.  After all, it is your day and it should be exactly as you've dreamed it.
Smile!
As you enjoy your first dance with the love of your life, do not forget to smile!  Often times when I work with couples, I have found that as they practice they begin their routine smiling but by the end they look quite serious!
What about our guests?
Remember what I mentioned about smiling while you dance?  When you are smiling with your spouse on the dance floor your guests will surely smile back!  Your guests are here for you.  Your guests will surely enjoy the dance when there are unexpected moves, such as a twirl or a dip.  So I would encourage you to consider featuring a few spins or a dip into your dance.  Regardless the stylistic choices in your dance, your family and friends will fondly watch you with the love of your life move on the dance floor.
What if I want to continue learning how to ballroom dance after the wedding? 
First, enjoy the wedding and your honeymoon.  Then you can reach out to Lake Shore Dance Academy.  The supportive, knowledgeable, and collaborative instructors would LOVE to continue sharing their passion for ballroom dancing with you!   This unique hobby is an activity you and your spouse can enjoy for the rest of your married lives.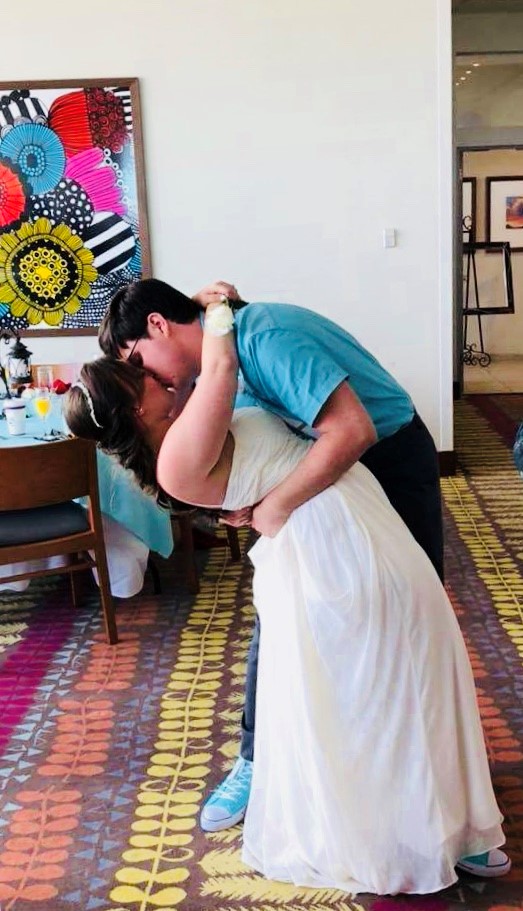 I am confident that regardless the type of dance you choose, your first dance will be magical to you and your new spouse! 
If you still have some questions check out our Wedding FAQ page or contact Lake Shore Dance Academy award winning ballroom dance studio in Highland Park. We will be honored to help with your dream wedding dance.