Cue the wedding music because here comes the LeAnn and Stacey!
I met this fantastic couple six months before their big day in October 2018.  One of my favorite quotes from this couple was "I still remember our first wedding dance lesson in Libertyville like it was yesterday!"  How fantastic is it that one dance lesson can create the forever memory?!  Let me tell you, we were able to create many memories as we learned many types of social dances.  And as an added bonus, these fabulous ladies were enthusiastic and had a passion for dancing!  I feel so lucky to have been able to work with such an energetic and fun-loving couple! Without further ado, let me introduce you to LeAnn and Stacey!   
LeAnn walked in with such enthusiasm and excitement, it was clear this person has a passion for dancing.  I quickly learned that while growing up, LeAnn had always found herself dancing.  This life-long passion was largely influenced by her grandmother.  LeAnn recalls, with a smile on her face, how she used to dance with her grandmother.  Delicately placing her small feet on top of her grandmother's and the two of them would dance together.  LeAnn continued to nurture her love for dance and grew extremely fond of Polka.  So much so that she and Stacey attend Wisconsin's Polka Festival!  
As LeAnn walked in, for the first wedding dance lesson in Libertyville  Stacey was quick to follow into the studio.  I immediately noticed how these two complement each other since LeAnn was unbelievably ready to start dancing, while Stacey was happy to observe her surroundings.  It definitely made think of the saying, "opposites attract". However after a couple of lessons, it was clear that Stacey found her groove for dancing.  It was so much fun seeing her personality shine in the studio. Her wild side really came out when we began learning the Hustle!  
Not only did we learn the Hustle in the six months before their big day, we also learned the Rumba, Swing, Foxtrot, and Cha-cha, as well as Polka –of course!  These social dances came in handy during their reception as well as friends' weddings, New Years Celebrations and work events.  Plus, the lessons naturally turned into a date night for these two.  With LeAnn and Stacey's passion for dancing they ended up falling in love with each of the dances, but more importantly they fell more in love with each other!  
Learning these social dances definitely helped when we began choreographing LeAnn and Stacey's first dance.  The vision was to create a routine that really portrayed this couple's personality.  The final decision was to create a mash-up that included a rumba and hustle.  And let me tell you, at Lake Shore Dance Academy we absolutely love creating and choreographing mash-ups!  It gives the couple the unique opportunity to tell their own love story through music and dance.  LeAnn and Stacey's love story featured a slow yet romantic tune and then turning up the energy with an upbeat song!  Their graceful movements, steps and gorgeous smiles exude such confidence as they perform their dazzling first dance with close family and friends.  Here is the video to their first dance.   
Reflecting on this couple's unique dancing journey, it is really wondrous to watch their confidence as dancers develop at Lake Shore Dance Academy.  What's even more wonderful is that I get to continue watching their confidence and skills grow in the studio today!  LeAnn and Stacey have been keeping up their tradition of their dance lesson date night for almost two years.  
Now it is a time for their love story, The Knot helped us find their wedding website so let's share it.
Our Dream Come True
---
As some might already know, I initiated the first contact with LeAnn by winking at her on Match. From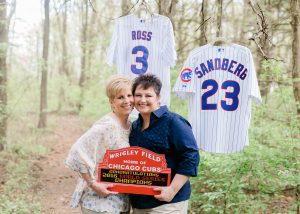 there, we began emailing and texting one another. We hit it off from the start and she brought a smile to my face and had me laughing with her witty sense of humor. Our first date was in December, 2015 in the city and it was the best first date ever. However, our second date was the very next day and it did not turn out so well, but we will just leave it at that! Fortunately, LeAnn was persistent and by New Year's I knew she was my dream come true and the person I wanted to spend the rest of my life with. So, on October 1, 2016, I popped the question at one of her favorite places and she said yes. LeAnn is the first person I can be my complete self with and look forward to spending the rest of my life with her.
YEAH! BUT SHE COST ME $132
In order for me to communicate with her via Match, I had to purchase a 6 month subscription (up front) for $132!!!
She was (and is) definitely worth every penny! I never thought I would/could be this happy and certainly NEVER thought I would be getting married. Like Stacey said, we hit it off from the beginning and talked/texted incessantly. Our conversations were natural and effortless; we never seemed to run out of stuff to talk about in the "getting to know you phase", we both value our families very deeply and we made each other laugh. That's when I realized: this is what it feels like to truly be in love, this is what all the hype is about, this is what it means when "you find the right one, you'll know it". Well…I finally found the right one (for me) and love her with all my heart.
All my dreams came true too but more will come true on the day we say I DO!
---
Stacey proposed at one of my favorite places…it was very romantic and well planned with candles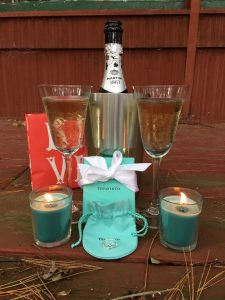 burning, our favorite songs playing in the background and a bottle of chilled Champagne. While we were dancing, she told me I was her dream come true and how lucky she was to have finally met the person she had been looking for all her life, and asked, "will you marry me?" It was very unexpected, and of course me being me…I hesitated in my comedic way, and accepted and she gave me the coolest infinity ring from Tiffany's. It was a night to remember.
If you enjoyed learning about LeAnn and Stacy's dancing journey in Libertyville, IL then give us a call, email us, or visit our website.  Mention LeAnn and Stacy's story and you will receive a complimentary wedding dance consultation and lesson in Libertyville!